Beetles of Costa Rica | Escarabajos de Costa Rica
This page is dedicated to the inordinate beetle fauna of Costa Rica (an estimaged 35,000 species), which we (Heike, my girl friend, and I) had the opportunity to study at a glance. Below you will find a couple of close-up images of beetles, in the order of national parks, we have visited. At this time, |Beetles of Costa Rica| is more or less a "picture only" site. Be invited to take a tour through the most remarkable National Parks in the Northern parts of this fantastic country and browse the beetles, which can be found there. National Parks we have visited are the Volcan Arenal NP, the Monte Verde NP, a rain forest fragment just outside the Guanacaste NP, and Rincon de la Vieja National Park. Some beetles were also observed in the dry lands below Rincon. Since all beetles were grapped by photography, only, determination is not in every case possible. Some of the beetles shown can only be determined to the family level. If you think that you can identify one of the beetles on display, please feel free to send me an email. I will be more than happy to update the page with the correct name, acknowledging each contribution by citing the name of who has provided the information. If you, for what ever reason, do not want to be mentioned or cited here, please let me know.
_______
Arenal NP | Guanacaste NP | Monte Verde NP | Rincon
_______
Volcan Arenal National Park
Most of the images in Arenal NP were taken actually outside the park, alongside a road, connecting the NP area with the Lake Arenal dam. This bumpy road goes through an impressive rain forest, were many beetles (and other insect like mantids, bugs, etc.) can easily be observed lurking on the vegetation or flying busy around.
Family Chrysomelidae, subfamily Cassidinae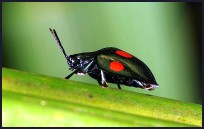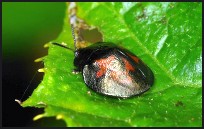 Family Chrysomelidae, other subfamilies
Family Curculionidae
Family Lycidae
Guanacaste National Park
The images below were taken near the village Quebrada Granda, which is reached following road 917 for about 7 km, after leaving the Panamericana highway. While trying to get to the Guanacaste NP, we got lost, but found an interesting bumpy road which led us to a small trail, entering the rain forest. The trail was less than 2 km long, but provided a fascinating variaty of beetles and other insect. In the trees we observed two monkey families, hanging around and searching for some food. On the vegetation, growing left and right hand of the trail, we had the opportunity to watch three specimens of the perhaps most bizarre and fascinating chrysomelid beetles of Costa Rica, Omocerus casta (kindly identified by E. HOLZER). In addition, some spectacular members of other beetle families were observed.
Family Chrysomelidae, subfamily Cassidinae
Family Chrysomelidae, other subfamilies
miscellaneous families (Cerambycidae, Coccinellidae, Curculionidae, Languriidae etc.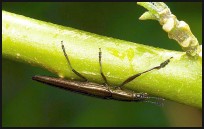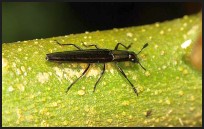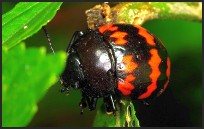 to be continued:
Recommended reading:
Solís, À. (2002): Escarabajos de Costa Rica, Las familas y subfamilias más communes (Beetles, The most common Families and Subfamilies). 2nd Edition, 132 pages, Instituto Nacional de Biodiversidad (INBio).
back to top
last modified: 2011-June-06
Seite erstellt durch: Priv.Doz. Dr. Oliver NOLTE; alle Rechte beim Verfasser (2011)
Alle Bilder unterliegen dem Urheberrecht und dürfen nicht ohne schriftliche Genehmigung des Verfassers verwendet werden.
Copyrights apply to all images. Use without license is strictly prohibited. License may be granted upon written request.